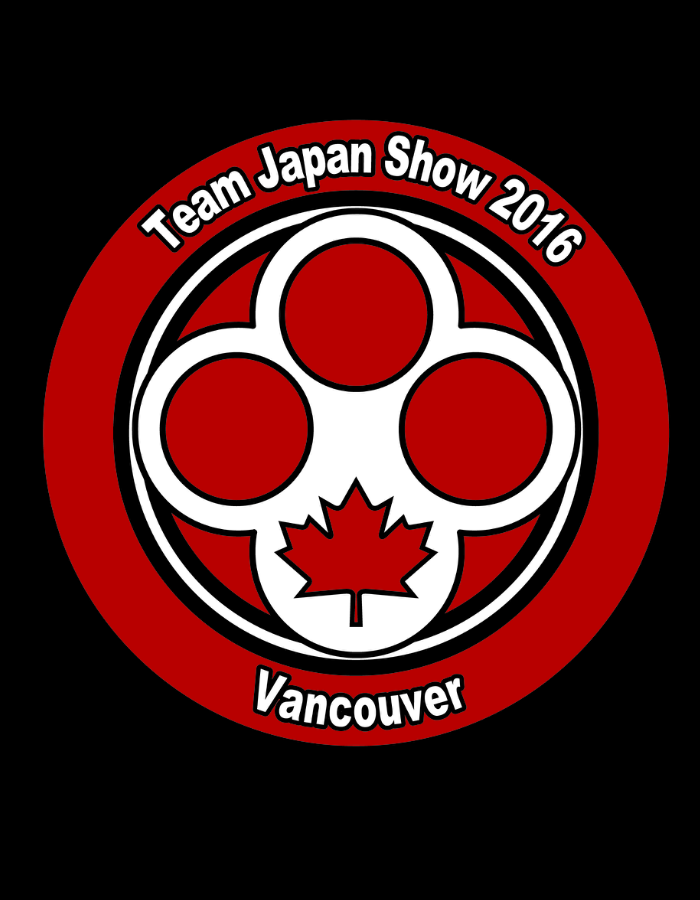 Team Japan Show 2016
OCTOBER 22nd(SAT)
15:00 - 20:00
Artists
Daisuke Saito / Junichi Kojima / Yoshinori Kondo
Three of us will be at gallery during show.
Host by Jon Green
Address
" United Art Space "
434 Columbia St, Vancouver, BC V6A, CANADA

←
Google map for Gallery
This is closest Hotel from gallery.

←
The Georgian Court Hotel

←
Ramada Limited Downtown Vancouver
Show Information

The show will begin at 15:00 and sales will be done in a first-come, first-serve style. We will be monitoring the line for a few hours before the doors open and will hand out numbers to attendees. Each person will be allowed to purchase a single item until everyone in the line has had an opportunity.

We expect well over 50 pieces to be available, including both collaborations and solo work from each artist. The artists will be on hand to answer questions and enjoy the event with everyone that attends, but all sales will be handled through Jon Green.

If there are any questions regarding payment or any other details please contact Jon Green on Facebook

(www.Facebook.com/JonGreenArt),

Instagram

(@JonGreenArt),
or email (Jon@JonGreenArt.com <mailto:jon@jongreenart.com?subject=>).


Team Japan History
Team Japan consists of three Japanese borosilicate flame workers - Daisuke Saito (DISK), Junichi Kojima (Rose Roads), and Yoshinori Kondo. It has been over three years since these three artists came together for the first time and since then they have competed in a flame-off and had three exhibitions of their work. But more than that, they have become the standard-bearers of Japanese glass art in the American borosilicate community. They have trekked a path that has opened the doors of opportunity for the next generation of Japanese flame workers into this evermore global market.
The story begins in Toronto, Canada with the Treating Yourself Expo & Flame Off in 2013. Three teams of three were competing: Team Canada, Team America, and Team Japan. Even before the flame off got started, there was a buzz in the air around the work that Team Japan had brought for exhibition - in what seemed like mere minutes, they had mostly sold out of everything. Over the next three days all three teams produced stunning pieces of art, but there could be only one winner and on the third day it was revealed to be none other than Team Japan.
Once back in Japan it was clear to Team Japan that they were onto something. The sense of camaraderie between these three extremely talented flame workers was clear as they had all struggled to get the recognition deserved and now was their time to shine. They decided that in 2014 they would hold the first Team Japan Show - a pop-up exhibition they hosted themselves at a gallery space in Tokyo, Japan. It was a complete success - once again their work sold out.
They next turned their focus to Europe - the next Team Japan exhibition would be Yo-Kai-Ju at the Original Dampkring Gallery in Amsterdam, where they they teamed up with Salt and Snic from the USA to have a five person group show. This was largely unknown waters as the market for borosilicate art wasn't well tested in Europe. But again there was success - the reactions and reviews from those that attended the show were all hugely positive.
During the 2014 you could really tell that Team Japan were starting to get comfortable in their position as the leaders of the Japanese borosilicate movement. They saw a responsibility to use their reputation and influence to encourage and help develop the careers of the next generation of Japanese boro artists. So for 2015 they made the decision to expand their Team Japan Show to include four more Japanese flame workers: Akihisa Izumi (Akio), Taichi Kashimura (Happa), Takao Miyake (Chandra), and Takehisa Okumura (Aquarius). Instead of a Team Japan Show, the 2015 show was called the All Japan Show. Held again as a pop-up exhibition, hosted by themselves at the same gallery in Tokyo. It was without a doubt a bigger success than the first Team Japan Show - they even had Joe Peters, one of America's most popular boro artists, waiting first in line before 6AM - many hours before the doors were to even open. More people made the trip to Japan to attend and once again all of the Team Japan work sold out.
That quick history now brings us to 2016, with the next exhibition - the Team Japan Show 2016, a pop-up exhibition that will be held in Vancouver, Canada this October. DISK and Rose Roads spent over a month in the US working at a number of studios and with lots of different American artists to get work prepared for what will be the most impressive of their exhibitions to date. It is also a reunion of sorts, with them returning to the country where they first became Team Japan. This show is being hosted by Jon Green, who has been involved with the team from the very start and has helped with or attended all their events. Originally from Toronto, but now living in Tokyo, he helps bridge the gap between the North American market and the Japanese flame workers.
Written by Jon Green